1996
Location: Front Steps, Village Congregational Church
Whitinsville, MA

(Click here to enlarge the picture)
Front Row (Left to Right): Andrew Sutton, Chad Woodward, Adam Paul, Steve Magnusson, Justin Castell, Nick Hartland, Jesse Kiernan, Davin Wesinger, Ryan Langlois, Andrew Lange.
Row Two: Nick Miller, Jeremy Butler, Chad Curll, Paul Holmes, Jon VanEtten, Tom Lamontagne, Matt Brooks, Steve Fournier, Joshua Myers, Jon Parks-Ramage.
Row Three: Nick Marshall, Dave Pepin, Josh Stevens, Ben Benton, Joel Magnusson, Andrew Myers, Nathan Romeo, Mike DiVirgilio, Josh Phillips, Randy Lloyd.
Row Four: Eric Lantto, Josh Fortin, Steve DiVirgilio, Evan Lapointe, Brent Duda, Jeff Shanahan, Russ Bolton, Dave Shanahan, Larry Fournier.
Row Five: Dan Vine, Pete Rusakovich, Justin Fortin, Bill Dowdle, Ken Gauthier, Phil Magnusson, Doug Thompson.
Row Six: Dean Fortin, John Lapointe, Ray Beaudoin, Steve George, Jeff Benton, Bill Ballou, Charles Thompson.
(Note: This was the last picture taken of Troop 155 by photographer Bob Czajkowski, Treasure Valley photographer. Troop photos taken by Bob Czajkowski date back to at least 1960.)
WHY WAS OUR "CAMP" PHOTO TAKEN AT THE VILLAGE CHURCH? LOOK BELOW!
Location: On the banks of the Snake River near,
Jackson Hole, Wyoming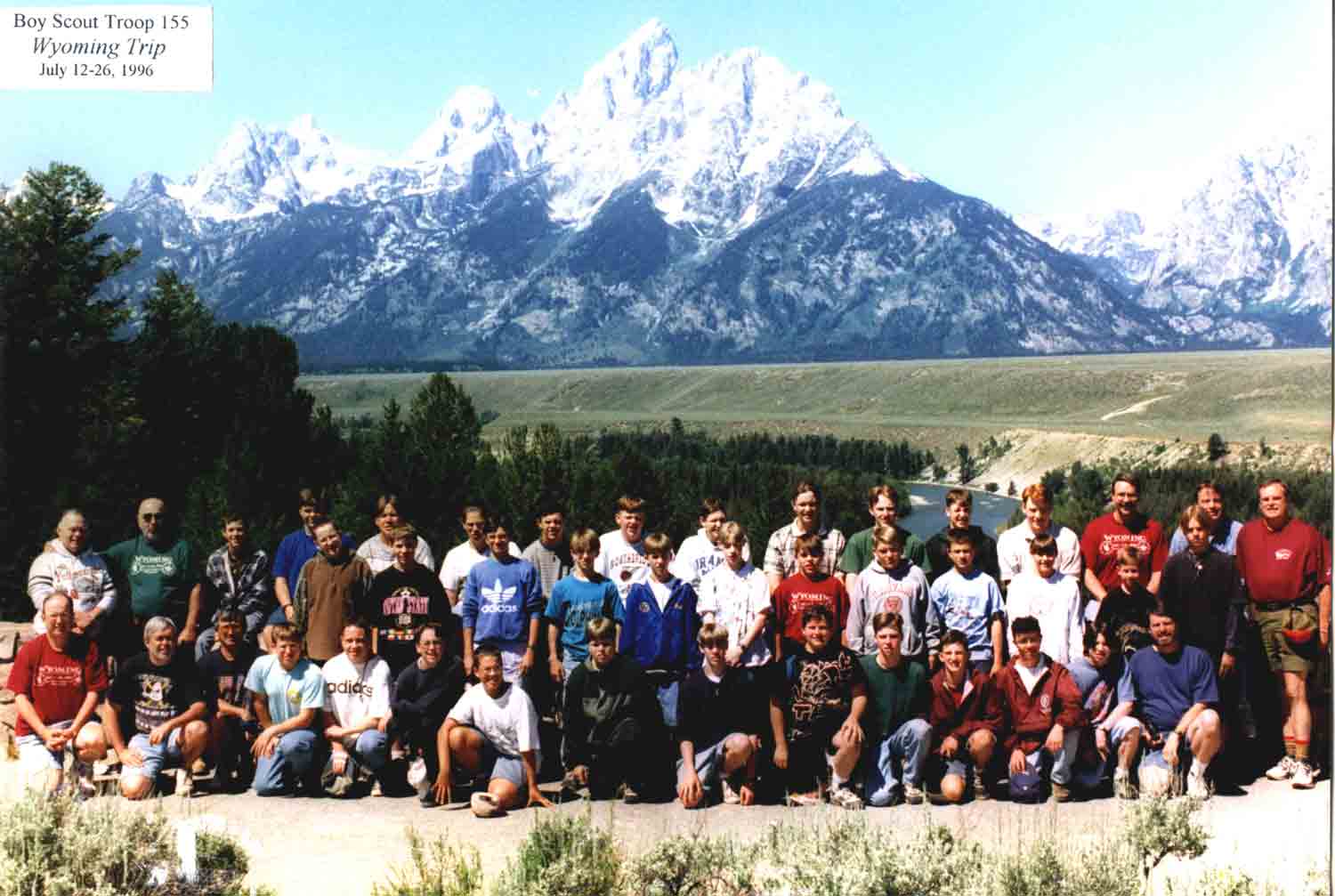 (Click here to enlarge the picture)
Front Row (Left to Right): Ray Beaudoin, Bill Dowdle, Larry Fournier, Josh Phillips, Ben Benton, Josh Stevens, Jon Parks-Ramage, Matt Brooks, Mike Brennan, Jon VanEtten, Jeff Shanahan, Dave Pepin, Andy Myers, Steve Fournier, Jack Thompson.
Row Two: Steve Thompson, Tom Lamontagne, Nathan Romeo, Chad Curll, Jeremy Butler, Nick Marshall, Justin Castell, Paul Holmes, Steve Magnusson, Andy Lange, Andy Sutton, Joel Magnusson.
Row Three: Merrill McNelly, Ken Gauthier, Billy Ballou, Randy Lloyd, Brent Duda, Russ Bolton, Josh Myers, Dave Shanahan, Josh Fortin, Justin Fortin, Pat McCabe, Evan Lapointe, Dan Vine, Dean Fortin, Doug Thompson, Charles Thompson.
(photograph by Ray Beaudoin)
The Troop spent it's summer camp week at Camp Buffalo Bill, Cody, Wyoming and a second week of touring in the area.