See no side menu? Visit the non-JavaScript site
Florida Pictures
Saturday, July 25
Day 11
Jason Warchol, Andrew Gawlak, Ben Holmes, and Matt Mullen
prepare to hit the streets of the Magic Kingdom.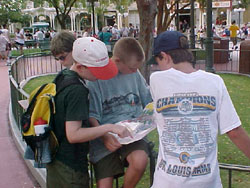 ....While Tony Yetsko, Ben Keller, Mike Nedoroscik & Dennis Milechin
study the map to plan their "attack."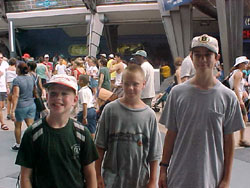 Ben, Mike and Tim O'Neill ......After a few spins around
Tommorrowland, they are looking mighty happy.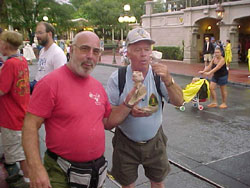 Two men and two uncooperative ice cream cones complete the day.
(Note: we wish we had more pictures of Scouts enjoying the Magic Kingdom,
but the truth is......once they got going, we didn't see them all day! )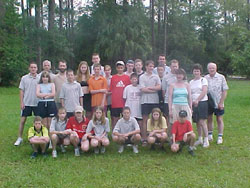 A Venture Troop, hailing from Greenwich, England pose for a group photo
before heading out from La No Che on their way to "Space Camp."
(British venture troops accept girls as members, a detail not overlooked by our boys!)